With some help from Hebron, CT, town officials and local historians, I've tried to develop a picture (so to speak) of the distillery's history. If you can help, please contact me.
Shortly after prohibition ended in December 1933, Yorkshire Distillers was incorporated (Feb 25, 1935), by David Hayes, President; Francis Cox, Treasurer; and John Hayes, Secretary; for the purpose of manufacturing, bottling, and distributing various alcoholic liquors such as gin and whiskey. David Hayes had previously bought the property and buildings from the Amston Lake Company. It seems to me that Yorkshire was immediately in trouble as the Colchester Lumber and Coal Co. had a lien on the property by Sep 1936 for failure to pay a bill for constructing "a certain building" on the site.
A receiver was appointed in Dec 1936, and the Yorkshire property was sold to United Distillers Products Corp. of North Bergen, NJ, in July 1937. Nat Tulley Semel (pronounced "Zemel") was President of United Distillers by 1946 when they applied for State liquor permit renewal as a manufacturer. At least some of the liquor was labeled under the "Old Amston" brand, but Mr. Semel was quite creative in naming his products: I heard from former Amston resident Wallace Brodeur that one brand was "Antedeluvian" but haven't yet seen that label.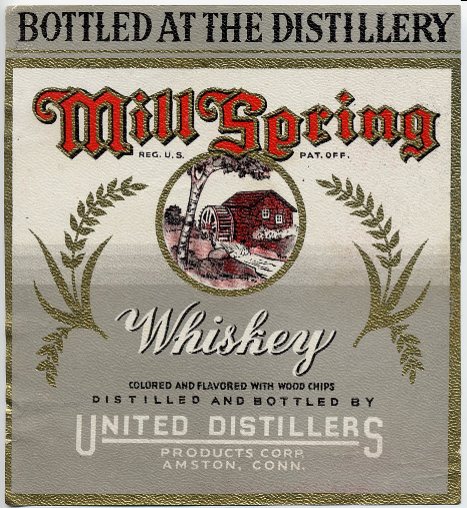 Click here to view a collection of United Distillers labels.
(Thanks to Amston's Elaine Wallace for the loan of these labels for scanning.)
There was a deed transferring the property from United Distillers to Semel in 1952. This is a bit confusing to me because when United Distillers went belly up in 1961, the property was deeded to the Florence Operating Corporation, the sole stockholder of which was... Nat Tully Semel.
Florence Operating Corporation dissolved in 1968 and the land was sold for $1 to Nat Semel's estate. The estate then sold the property to Joseph Seaha and Carol Danovich of Meriden (and I stopped following the trail).
When was the chimney built? Since the name "SEMEL" is an integral part of the brick work, I'd have to say it was either built during the time that N. Tully Semel was President of United Distillers, or before he died (while he owned Florence Operating Corp). There is no indication that Semel was connected to Yorkshire. And because Hebron didn't issue construction permits back then, I can't just look it up. I don't know when Semel took the role of United Distiller's President, so for now I'll use the earliest date for the chimney as when United Distillers took over from Yorkshire. That gives a range of 1937 to 1968.
(June 2009 update. I've just had a phone call from Mildred Rubin who worked at United Distillers starting in 1939 until the mid-'40s. United Distillers was Nat Semel's company from its inception. Prior to 1939, Nat Semel had a "rectifying plant" in New Jersey. He bought alcohol from others and used it as a base for his own beverages. The Amston plant included a distillery plus the bottling facility. Apparently, the distillery was over by the chimney. The building still standing, barely, was where the staff lived. I believe it also housed offices and some production functions. Nat's primary customers were distributors who he supplied with private label stock. During WWII, Semel made alcohol for the government. "Florence Manufacturing Co." was named for Nat's daughter. Nat had two other children - Gloria and Norman - by his first wife, Ruth. After Ruth's death, he married Janet Zeleznicky of Salem, CT. They had two children, Nathaniel Tully Semel, Jr., and George Myron Semel. Thank you, Mildred!)
Thanks to Wally Brodeur, formerly of Amston, I can share two 1966 documents shedding a little light on Nat Tully Semel, Sr.
Photo of Nat with sons Nat Tully Semel Jr., and George Myron Tully, taken while on a cruise.
A letter from Nat to Lil and Wally Brodeur.
It looks like the businesses on the site were rarely healthy - if the list of liens, foreclosures, and dissolutions are any indication. And from other town records and what historians have told me, that trend has continued to the present. (Today, the property has the address 612 Church Street.)
The distillery site is in a section of Hebron called Amston. (Indeed, there is an Amston, CT, post office.) Phineas Turner began buying land in the area in 1853 and had established a cluster of water-powered factories making silk ribbon and fringe by 1888. These factories were closed by 1907. Turner died in 1903. Charles Ams (not Ames as the name is sometimes spelled) purchased the factory complex and North Pond water rights in 1912. Among his manufacturing ventures was the Ams-Sterling motor car, but it was not a success and production had ceased by 1917.
During Turner's time, a community of workers and support businesses developed close to the factories. This became Turnerville, then Amston after ownership of the factories changed. With the decline of manufacturing in the 1930s, North Pond (now Amston Lake) was developed as a summer vacation community. The lake itself remained privately owned until 1993 when surrounding residents bought it from the estate of the previous owner.