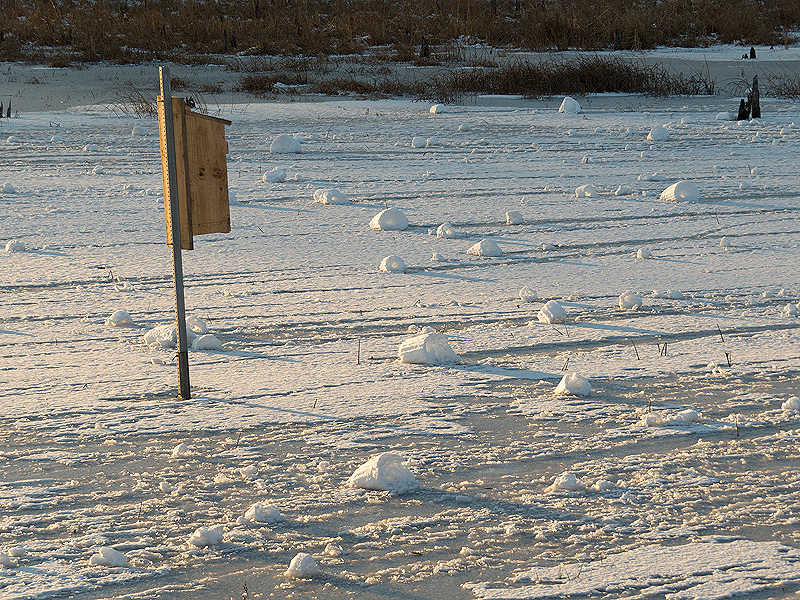 I found a good description of this and other strange ice formations here:
https://www.mnn.com/earth-matters/climate-weather/stories/7-strange-ice-formations
The following is copied from that site, but please visit to see the other oddities they've captured.
Snow rollers
They look a lot like baled hay made of snow. And in a way, that's a pretty accurate description. In a similar way to how hay is rolled up into large balls, a snow roller is formed as a chunk of snow is blown along the ground by the wind, picking up more snow as it rolls and growing in size. They are cylindrical, and usually hollow since the first few layers to form usually flake away pretty easily as the rollers get, well, rolling. They can get as big as two feet in diameter.
Snow rollers usually happen when there is a fresh layer of loose snow on the ground and the temperature is near melting. The snow also needs to be on a surface to which it doesn't easily stick — such as icy snow — so that the top layer of snow sticks to the roller rather than the ground. Plus there needs to be enough wind to get the roller going but not so strong that everything breaks apart. Because the conditions are fairly precise, snow rollers are quite rare.