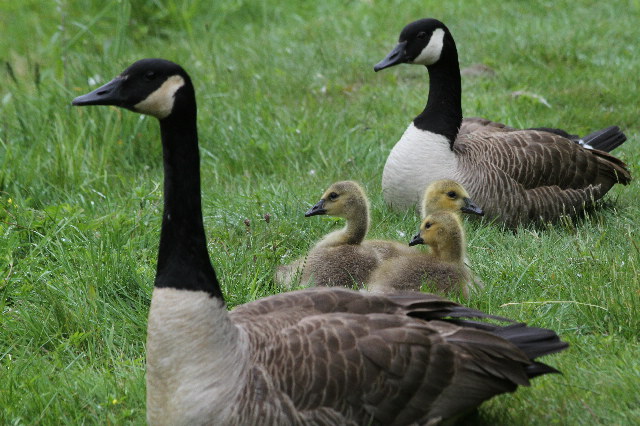 May 19th. An afternoon visit to Cranberry Bog in East Hampton found three goslings making up a Canada Goose (Branta canadensis) family.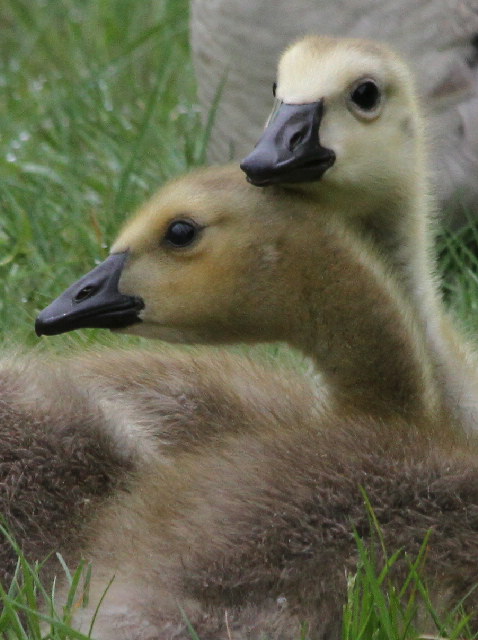 They don't come any cuter than these.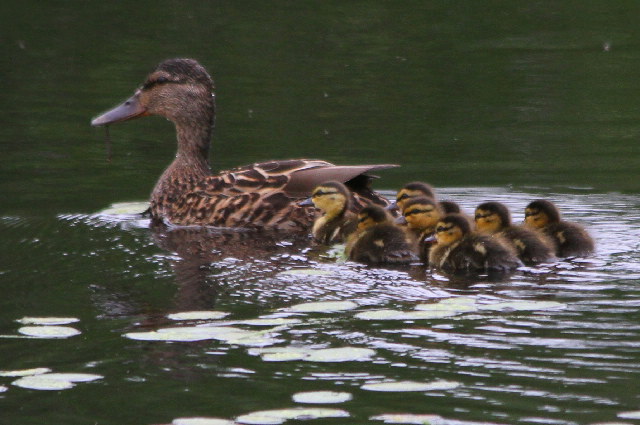 As I watched the geese, this female Mallard (Anas platyrhynchos) left the shelter of the bank with her eight ducklings.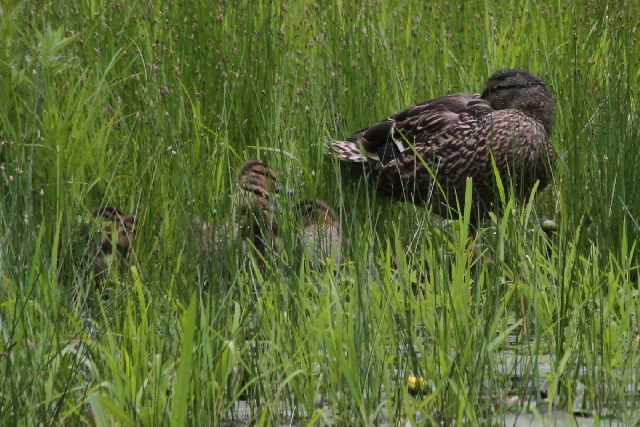 I found the family later, sheltering in bog-side vegetation.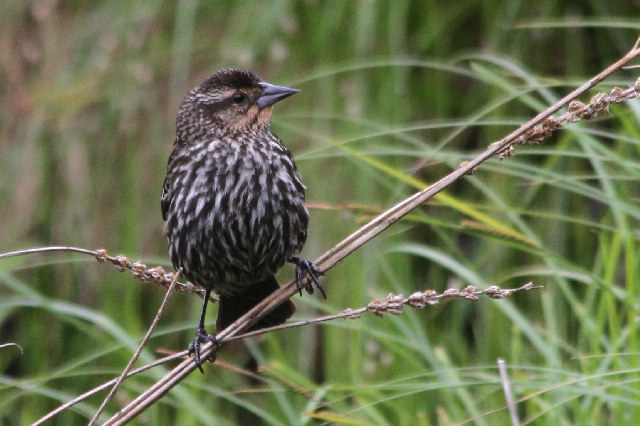 A female Red-Winged Blackbird (Agelaius phoeniceus) flew up from a bog-side hummock where it likely had a nest.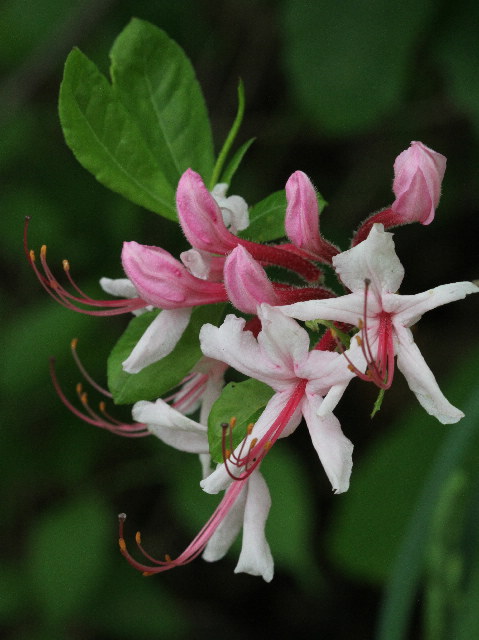 Early Azalea (Rhododendron roseum) at the trailhead parking lot.
I noticed this grader across Smith Street from the trail head. Great news! East Hampton has widened and graded the trail west to Watrous Street, nearly at the center of town.
The newly restored trail passes through shaded woodlands...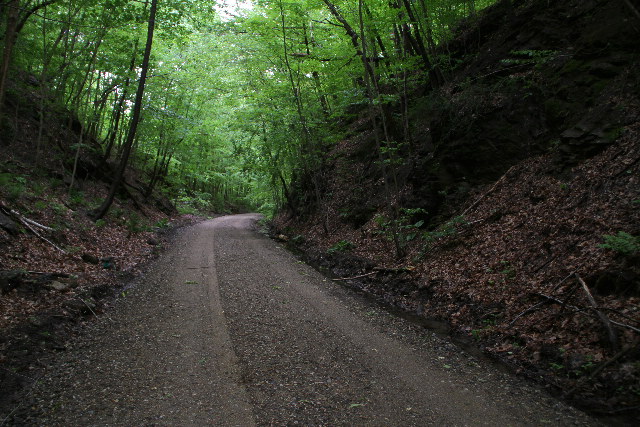 ...and a deep rock cut.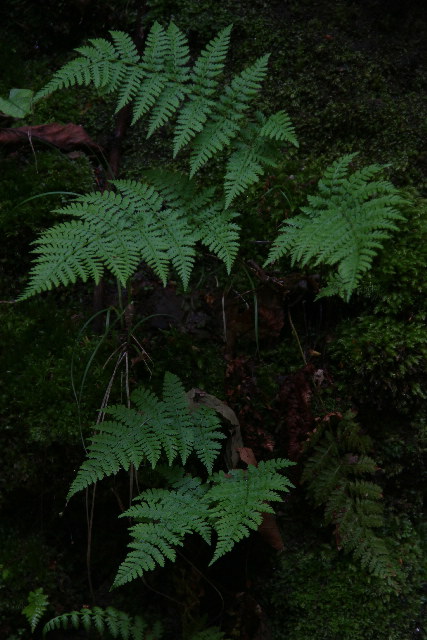 Lots of ferns and mosses in the rock cut's shade.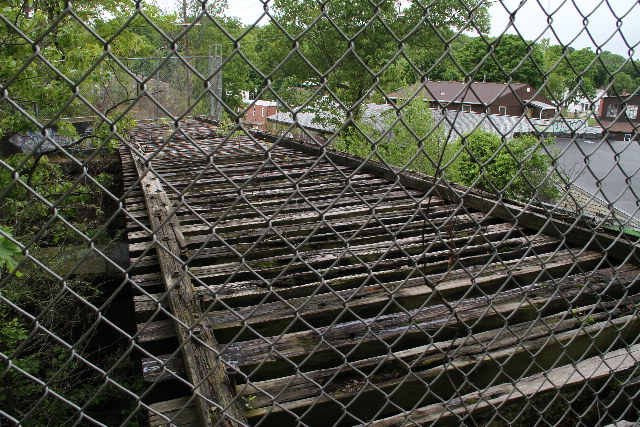 The restored section ends at this chain link fence, protecting the unwary or unwise from the rotten bridge deck over Pocotopaug Creek (the outlet from Lake Pocotopaug).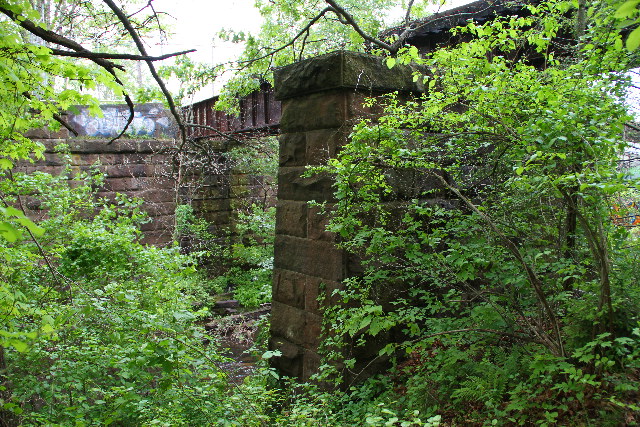 Some creativity here could offer direct trail access to and from downtown East Hampton businesses. It could also be an attraction itself akin to The Bridge of Flowers in Shelburne Falls, MA, or The High Line in New York City.
May 20th. Back in Raymond Brook Marsh, this immature male Orchard Oriole (Icterus spurius) was singing. (I saw but did not photograph an adult male a few weeks ago. These are the first I've seen on the trail.)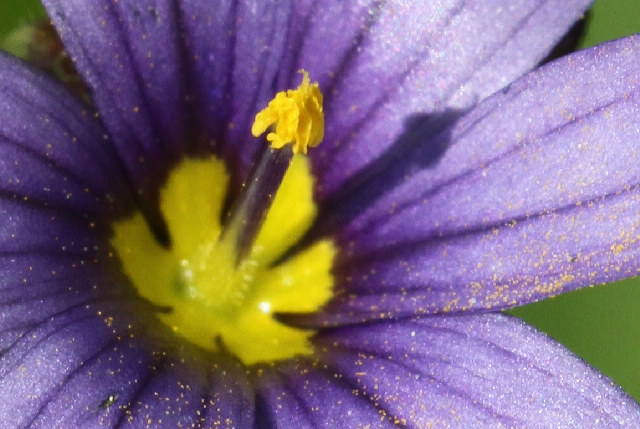 An afternoon walk from Grayville Road to the Jeremy River. Blue-Eyed Grass (Sisyrinchium sp.).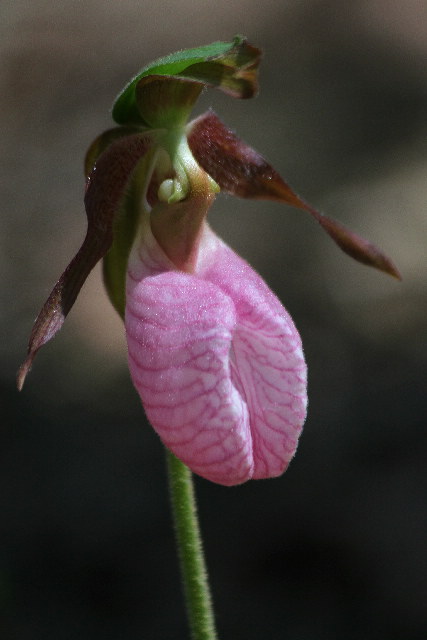 Pink Lady's Slipper orchids (Cyprepedium acaule) are having a good year.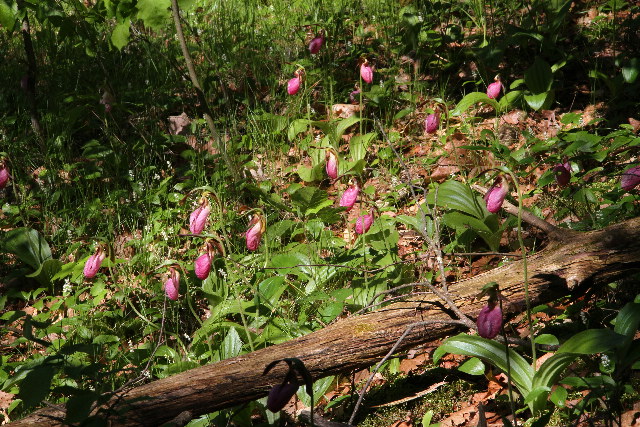 These orchids (and many more) are just west of Judd Brook. Sadly, several have been stepped on by people trying to get close.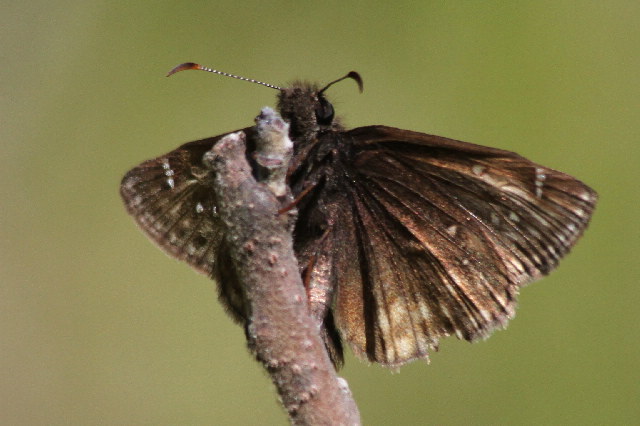 Probably Jevenal's Duskywing Skipper (Erynnis juvenalis).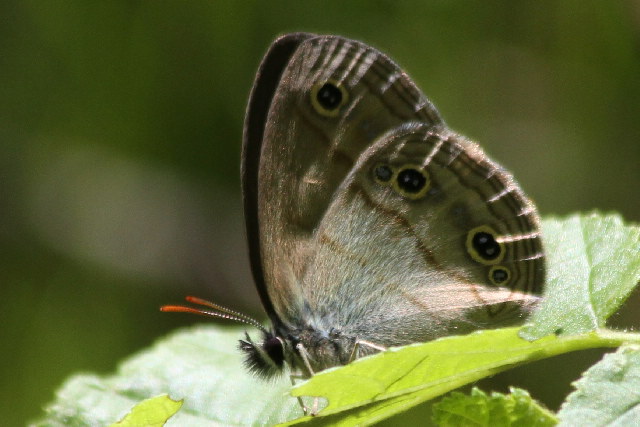 Little Wood-Satyr (Megisto cymela).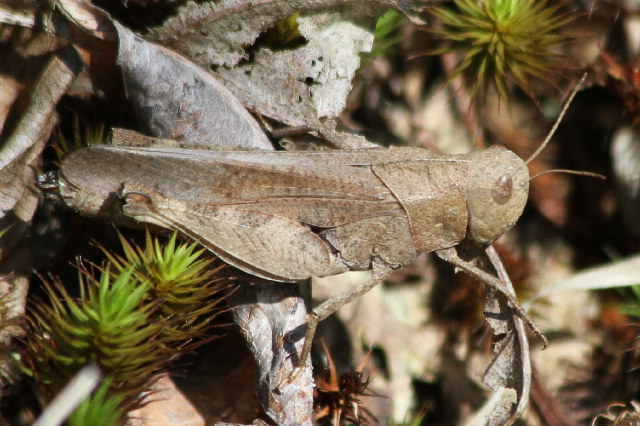 Even this grasshopper's eyes are camouflage colored.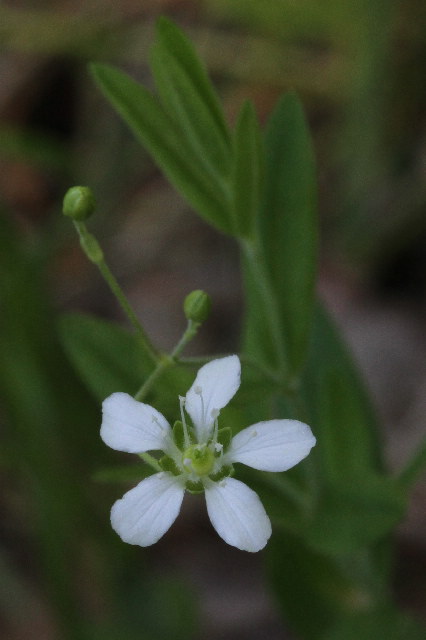 Grove Sandwort (Moehringia lateriflora).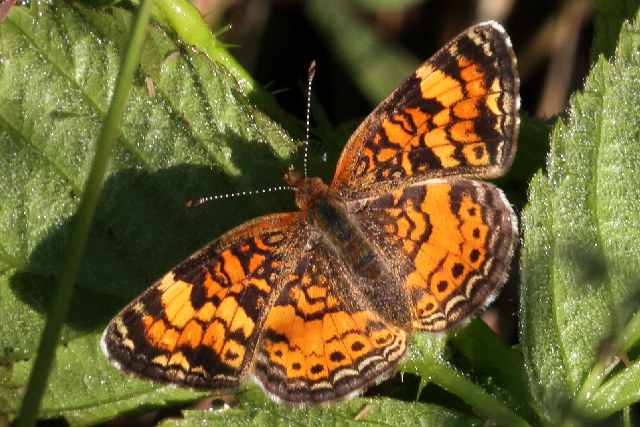 May 24th. Pearl Crescents (Phyciodes tharos) will be around through summer into fall.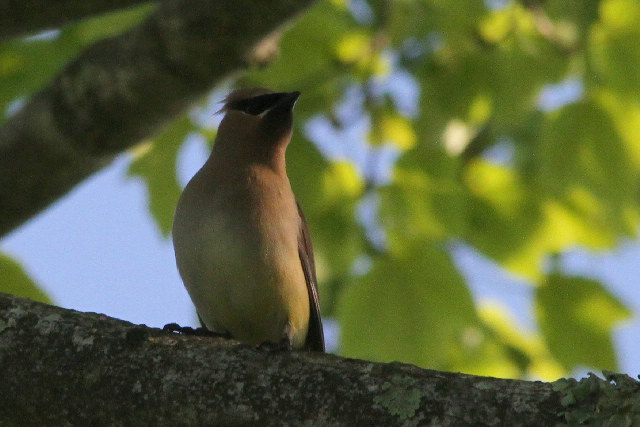 May 25th. Cedar Waxwings (Bombycilla cedrorum) are back! First sighting in the marsh today.
One of a pair of summer resident Canada Geese (Branta canadensis).
Snapping Turtles (Chelydra serpentina) have started laying eggs.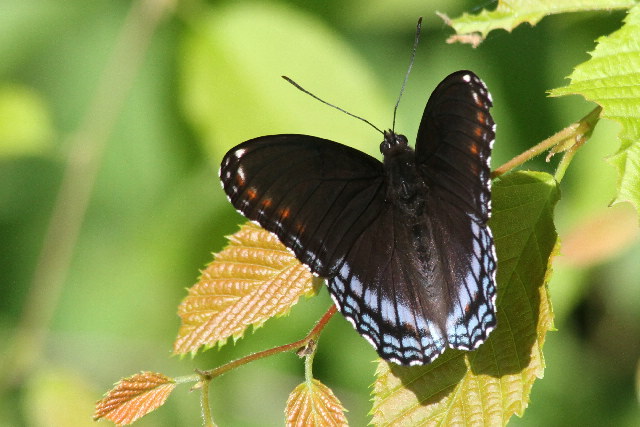 One of three territorial Red-spotted Purples (Limenitis arthemis astyanax) near the Route 85 trailhead.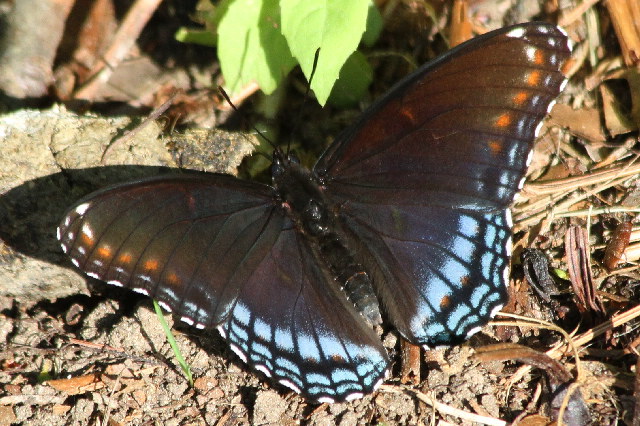 They take minerals from soil or, in this case, dung.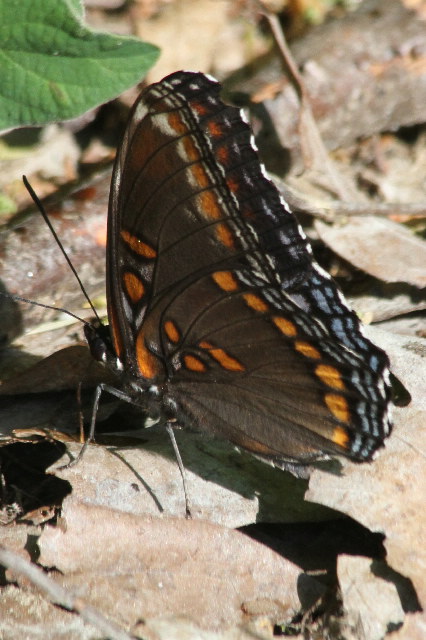 "Red-spotted" refers to the underside.
A male Black-winged Damselfly (Calopteryx maculatum). These are highly territorial, returning repeatedly to one or a few nearby perches from which they dart out to ambush flying prey.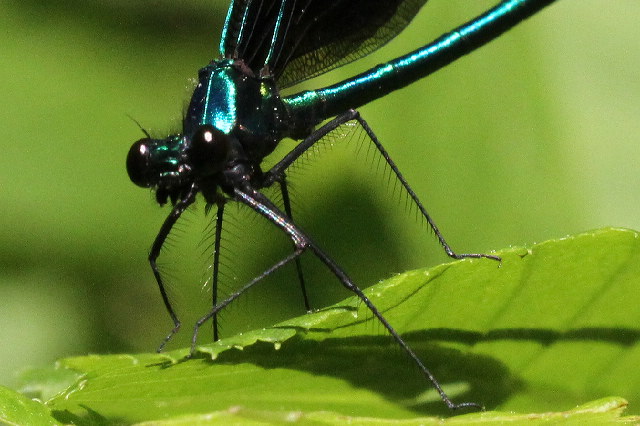 In flight, the spiny legs are held in the shape of a basket to scoop up flying insects.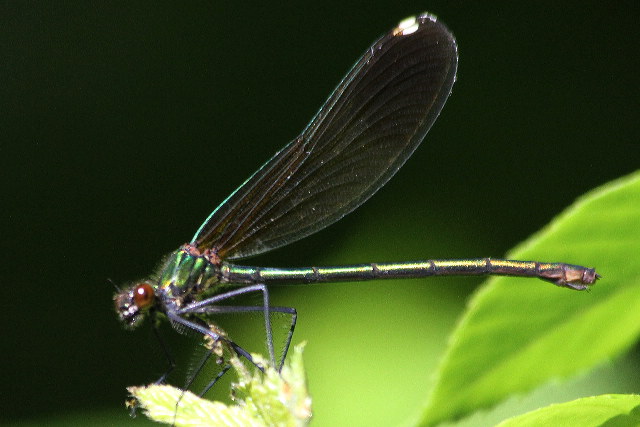 The female is also metallic, but less than the male. It's wings are not as pure black. They too return repeatedly to favorite perches - a boon for photographers.
Another Damselfly; probably a female Violet Dancer (Argia fumipennis).